As part of the Boston Art scene, we have a lot going on for people of all ages. We offer classes for kids, teens, and adults. We also offer workshops that don't require as much of a commitment for people who are very busy but still want to have fun and do something creative. We also run vacation art week for kids during the school vacations and during the summer.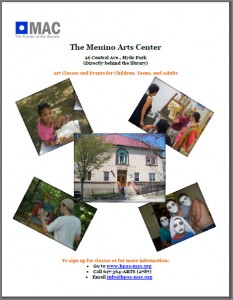 Catalog
Check out our catalog for a list of classes. Right now we have our Fall Classes listed in the catalog and are working on our Winter Classes. If you are interested in a class that we aren't currently offering, please let us know what that class is.
Registration
To register for a class, go to our registration page.
Teachers
Many of our art teachers also teach art in the schools, public and private.
General
This program is supported in part by a grant from the Boston Cultural Council, a local agency which is funded by the Massachusetts Cultural Council, administrated by the Mayor's Office of Arts, Tourism, and Special Events.