The Menino Arts Center proudly announces
IN CAMP AT READVILLE
a 3D exhibition created and presented by the 54th Regiment Re-enactors and Historical Society
The exhibition will be available from March 15 – April 27, 2018.
A must see, this is a rare and exciting 3D exhibition that visually brings to life what it was like to be part of the historical camp of the brave men who served in the 54th Regiment, the first African-American regiment organized in the northern states during the Civil War. An actual mock camp with tents and period artifacts along with photos will be set up in the hall and rooms at Menino Arts Center. Members of the re-enactors will be on hand during the exhibit to answer questions. This installation and presentation will highlight and educate this important period in US history and Hyde Park history. It is proudly in partnership with the celebration of the Hyde Park's 150th year of incorporation (1868- 2018).
Gallery Hours:
Thurs. 12 – 5 pm
Fri. 10 – 4 pm
Fri. 5 – 8 pm
Sat. 1 – 5 pm
Opening Reception: Friday, March 16, 7-9 pm
Children's Reception: Thursday, April 19, 1-3 pm.
Refreshments will be provided.
Free and all are welcome to attend.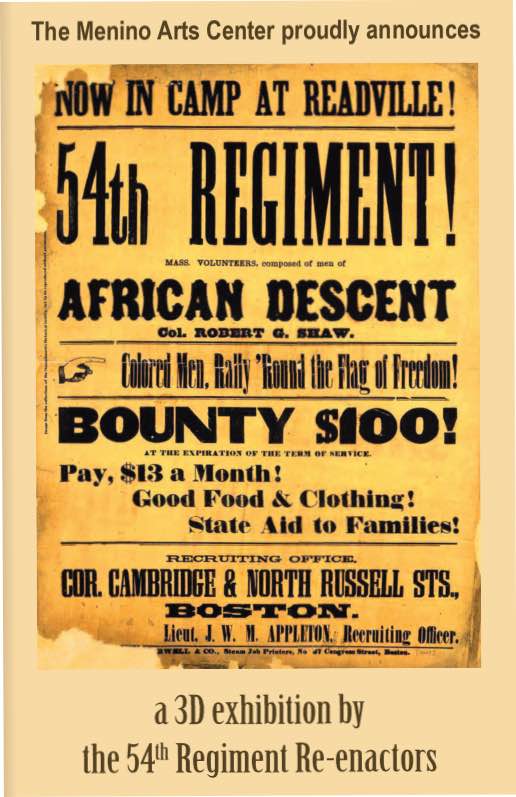 ---
Current Exhibitions at the Menino Arts Center
WOMEN INK
An exhibit of works by 14 local calligraphers
(December 29, 2017 – March 1, 2018)
Members Gallery & Gallery 26
Curated by:  Sasja Lucas
Coordinated by: Chris Roberts
WOMEN INK is a community of lettering artists in the Greater Boston area who have been studying calligraphy together for many years—some for more than 25.
The study group developed from years of taking formal classes together at The deCordova Museum School, and, after the studio art programs were discontinued, stayed together, working in other spaces. The Ryan Estate in Lincoln is their current home, and each week they meet to experiment with paper, paint, ink, and letters, and to find inspiration and support from one another.
Exhibiting Artists:
Ruth Fleischmann
Nancy Galligan
Mary Grassi
Judy Hadley
Gail LaBrecque
Sara Milder
Deborah Miller
Jean Mollineaux
Cynthia Perkins
Chris Roberts
Gail Robichaud
Mary Steele
Lee Thurston
Heather Wiley
---
HOUR 15
An exhibit of works by 15 Curry College student artists
(December 29, 2017 – March 1, 2018)
Officers Gallery
Curated by:  Sasja Lucas
Exhibiting Artists:
Eric Andreu
Jordan Battey
Gabriela Figueroa
Courtney Fino
Grace Gentile
Yaela Goldblatt
Danielle Halperin
Sarah Kane
Noah Keegan
Loksan Kim
Hailey Matthew
Celene Mednick
Nicolette Moyer
Katherine Savoia
Demitria Ulino
Gallery Hours: Fridays, 10am – 2pm
(or by appointment)
Join us for the Artist Reception for our current exhibitions
Saturday, February 10, 2018
1-3pm
Menino Arts Center
Members Gallery & Gallery 26
26 Central Avenue
Hyde Park
Refreshments will be provided.
Free and all are welcome.
*additional gallery hours to be announced soon.