"In Focus" Photography Exhibit
If you would like to show your Photographs in this exhibit, please fill out the photo call for art submission form.
(October 19, 2013 – November 22, 2013)
This is a general call open to everyone, no membership required. First come first served basis although HPAA members receive preference.
Hyde Park Art Association at Menino Arts Center (HPAA-MAC) is seeking photographers who would like to exhibit their photographs. Artists may submit up to four images. There is a $3.00 hanging fee for members and $5.00 fee for non-members.
Artists who wish to become a member may download an application at www.hpaa-mac.org or stop by for a form Monday – Friday 12-4 pm, or call 617-364-2787 for one to be mailed to your residence.
Each artist participant may submit up to four (4) works for consideration.
Number of works accepted will be determined by available spaces at the exhibit venue.
All works must be priced, titled, properly wired and ready to hang (no sawtooth hangers). Artwork must not be smaller than 11×14 inches.
An Artist bio must be attached to the back of the work.
There is a fee of $3.00 per piece for members and $5.00 for non-members to defray cost of mounting material; unused funds will be used toward the Artist Reception.
Artists will be reimbursed any fee for artwork not hung.
All work must be for sale, 30% of the sale price, if sold, will go to the Hyde Park Art Association General Fund.
DELIVERY of Your Art Work: October 15-18 from noon-4:00pm or Tuesday October 15 from 6-8pm
DEADLINE for SUBMISSIONS: Saturday, October 12 (see submission form)
SPECIAL ARRANGEMENTS: If you need to schedule an alternate delivery time please make an arrangement to drop off your art work by calling Cheryl Murphy at 617.364.ARTS (2787)
OPENING RECEPTION: Friday, October 25 from 6:30 – 8:00 pm at The MAC
PICKING UP ARTWORK: Pick up will be Saturday, November 23 from 10:00am -12:00pm
Group Venue Curator: Sasja Lucas sasjalucas@gmail.com
If you would like to show your Photographs in this exhibit, please fill out the photo call for art submission form.
Previous show:
Camilo Cardenas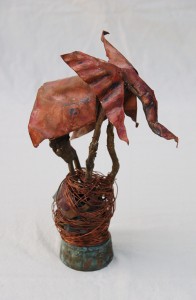 Camilo Cárdenas is a Sculptor, Filmmaker and Educator from Colombia. Although he has spent the second half of his life living in the Boston area, growing up in Colombia marked much of his personal style and visual affinities. His most recent body of work is "Angeles," a series of bronze, copper and glass sculptures depicting a troubled yet protective image of angels.
Camilo is a graduate of the Massachusetts College of Art and Design, where he majored in Sculpture. While at school he worked in several different mediums of Sculpture as well as Film and Animation. A majority of his Film work is done with 16mm and Super 8 film stock and hand processed. Most of the films that Camilo has done have been a collaboration with his wife, Belén Santos, also an artist.
Currently, Camilo is living and working in Boston.