Current Exhibitions at the Menino Arts Center
WOMEN INK
An exhibit of works by 14 local calligraphers
(December 29, 2017 – March 1, 2018)
Members Gallery & Gallery 26
Curated by:  Sasja Lucas
Coordinated by: Chris Roberts
WOMEN INK is a community of lettering artists in the Greater Boston area who have been studying calligraphy together for many years—some for more than 25.
The study group developed from years of taking formal classes together at The deCordova Museum School, and, after the studio art programs were discontinued, stayed together, working in other spaces. The Ryan Estate in Lincoln is their current home, and each week they meet to experiment with paper, paint, ink, and letters, and to find inspiration and support from one another.
Exhibiting Artists:
Ruth Fleischmann
Nancy Galligan
Mary Grassi
Judy Hadley
Gail LaBrecque
Sara Milder
Deborah Miller
Jean Mollineaux
Cynthia Perkins
Chris Roberts
Gail Robichaud
Mary Steele
Lee Thurston
Heather Wiley
HOUR 15
An exhibit of works by 15 Curry College student artists
(December 29, 2017 – March 1, 2018)
Officers Gallery
Curated by:  Sasja Lucas
Exhibiting Artists:
Eric Andreu
Jordan Battey
Gabriela Figueroa
Courtney Fino
Grace Gentile
Yaela Goldblatt
Danielle Halperin
Sarah Kane
Noah Keegan
Loksan Kim
Hailey Matthew
Celene Mednick
Nicolette Moyer
Katherine Savoia
Demitria Ulino
Gallery Hours: Fridays, 10am – 2pm
(or by appointment)
Join us for the Artist Reception for our current exhibitions
Saturday, February 10, 2018
1-3pm
Menino Arts Center
Members Gallery & Gallery 26
26 Central Avenue
Hyde Park
Refreshments will be provided.
Free and all are welcome.
*additional gallery hours to be announced soon.
Previous Exhibits
Portraits, A Juried Exhibition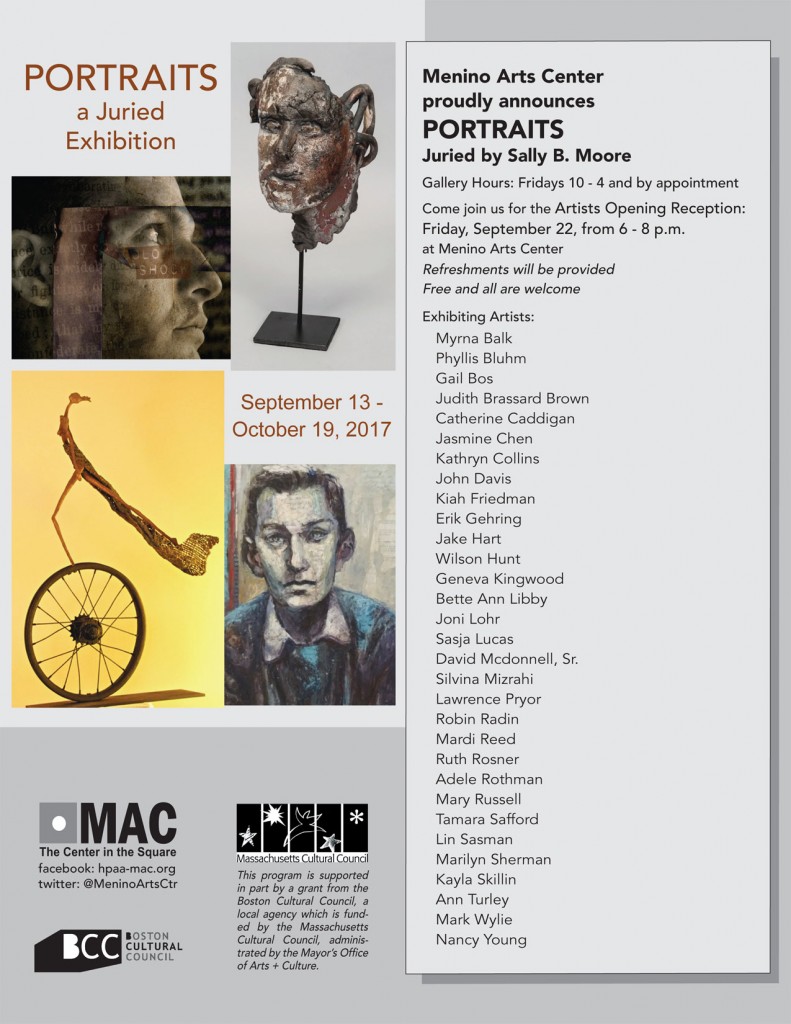 Exhibition Dates: September 13 – October 19, 2017
Theme: What is a Portrait?
A traditional portrait is a likeness of a person, but beyond the literal it can express essence, memory
or personality. The MAC welcomes all 2D and 3D mediums.
Juror/Bio: Sally B. Moore is an Associate Professor of Art at Fitchburg State University. She holds a
BFA in painting, an MFA in sculpture from MassArt, and a BA in Theater Arts from Vassar College.
Solo sculpture shows include the Barbara Krakow Gallery, Stonehill College, Fitchburg State
University, Simmons College, and Phillips Academy Andover. Group shows include DeCordova
Annual, and the Fitchburg Art Museum. A commission of eight sculptures for the Ames Hotel in
Boston was featured on Channel 5's Chronicle. She was a three time finalist for the Mass Cultural
Council's Artist Fellowship Award and received an Artist's Resource Trust grant from the Berkshire
Taconic Foundation. Her work has been reviewed in Art Forum, Sculpture Magazine, Art New
England, The New York Times, and The Boston Globe and is included in the collections of the
DeCordova Museum, Fidelity Investments, Simmons College, and Wellington Management.