Previous and/or Ongoing Exhibits at The Menino Arts Center
Portraits, A Juried Exhibition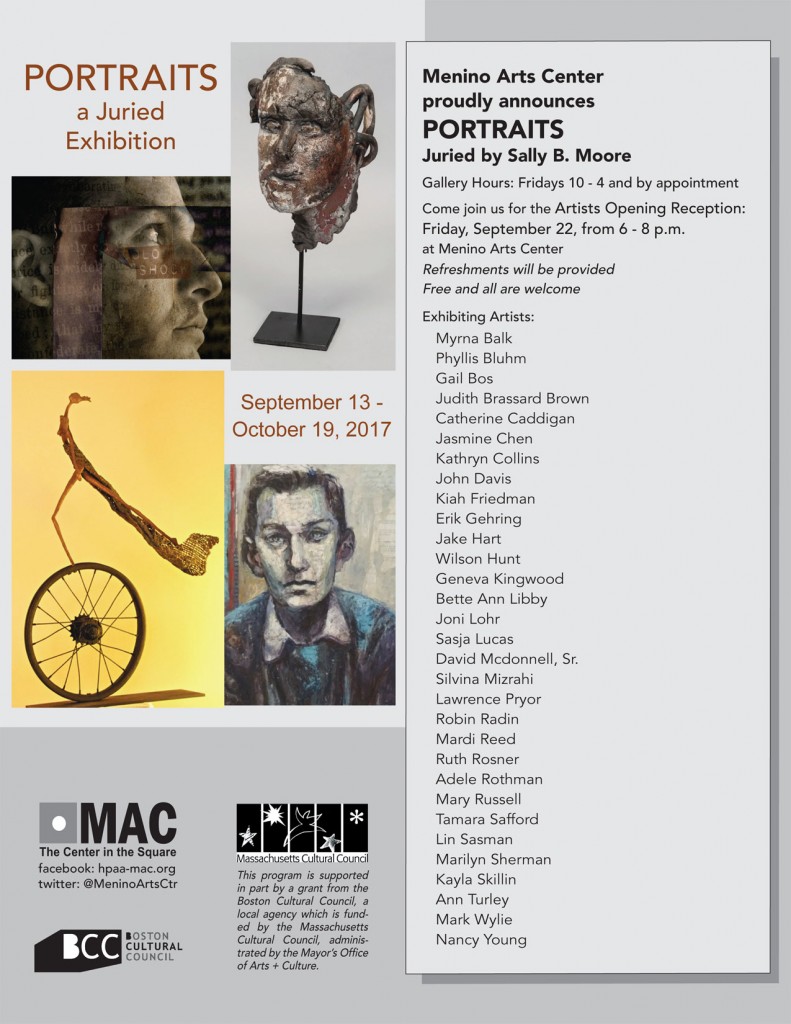 Exhibition Dates: September 13 – October 19, 2017
Theme: What is a Portrait?
A traditional portrait is a likeness of a person, but beyond the literal it can express essence, memory
or personality. The MAC welcomes all 2D and 3D mediums.
Juror/Bio: Sally B. Moore is an Associate Professor of Art at Fitchburg State University. She holds a
BFA in painting, an MFA in sculpture from MassArt, and a BA in Theater Arts from Vassar College.
Solo sculpture shows include the Barbara Krakow Gallery, Stonehill College, Fitchburg State
University, Simmons College, and Phillips Academy Andover. Group shows include DeCordova
Annual, and the Fitchburg Art Museum. A commission of eight sculptures for the Ames Hotel in
Boston was featured on Channel 5's Chronicle. She was a three time finalist for the Mass Cultural
Council's Artist Fellowship Award and received an Artist's Resource Trust grant from the Berkshire
Taconic Foundation. Her work has been reviewed in Art Forum, Sculpture Magazine, Art New
England, The New York Times, and The Boston Globe and is included in the collections of the
DeCordova Museum, Fidelity Investments, Simmons College, and Wellington Management.
Photography Exhibit
On behalf of the Menino Arts Center home of the Hyde Park Art Association, we are pleased to announce the 18 artists whose work has been selected for inclusion in our juried exhibition THE PHOTOGRAPHY SHOW.
The selection process was competitive and there were many excellent images. Our juror Erik Gehring was grateful for the opportunity to review the work submitted. Thank you very much for being a part of this process and congratulations on being selected!
THE PHOTOGRAPHY SHOW
Thursday, October 20 – November 30, 2016
1. Stephen Blinn
2. Renee Browne
3. Jean Cardia
4. Peter Chow
5. William Daniels
6. Donald David
7. Chloe DuBois
8. Andrey Gagarin
9. Jim Gamabaro
10. Mary Harrington
11. Nigel Logan
12. David Long
13. Robin MacDonald-Foley
14. Catherine McDonah
15. Robin Radin
16. Catherine Robotis
17. Richard Tranfaglia
18. Al Wallstrom
---
Crossing Lines
August 1 – September 10, 2016
Participating Artists include:
Dragan Grujic
Larry Johnson
Sasja Lucas
Walter Marroquin
David Mynott II
Erica Nazzaro
Dexter Roberts (artist and curator)
---
Studio Artists of the MAC
September 12 – November 13, 2015
Participating Artists include:
Susan Allen
Antoinette Harrell
Madeline Lafarge
Rob Larsen
Brent Ridge
Judith Robichaud
Adele Rothman
Tamara Safford
---
Blended
An exhibit featuring the artwork of teaching artist Rosemarie Clinton and several of her watercolor students engaged in the Menino Arts Center's (MAC) Mobile Arts Program as well as many MAC artists.
"This program is supported in part by a grant from the Boston Cultural Council, a local agency which is funded by the Massachusetts Cultural Council, administrated by the Mayor's Office of Arts + Culture."
Participating Artist Include:
Sharon Armour
Fidelina Arslle
Beatrice Baga
Mary Bellew
Rosemarie Clinton
Teresita Cuellar
William D.
Dionicia Eusebio
Rosemarie Ferraro
Harold Foppiano
Gladys Gondes
Ruth Hale
Mary Harrington (MarHarr)
Georgina Hassey
Gladys J
Larry Johnson
Geneva Kingswood
Madeline LaFarge
Sasja Lucas
Matthias Lupri
Dinorah Marine
Erica Nazzaro
Patricia Odom
Ana Oller
Mary Pagliarulo
Mary Parlione
Venancia Ramos
Rosa Ramos
Laura Richardson
Celia Robles
Fran Russell
Barbara Russo
Marianna Simari
Al Wallstrom
Dianis
and more


This program is supported, in part, by a grant from the Boston Cultural Council, a municipal agency supported by the Massachusetts Cultural Council, a state agency.